5 Bad Scheduling Habits That Are Hurting Your Patients And Your Practice
Written by Clinicient

Your front desk staff has a lot going on. They are your front line in your practice and usually, the first and last face patients see as they come and go in your clinic. But are they developing bad habits that trickle down and affect the rest of the clinic? Don't miss these five bad scheduling habits that might be hurting your practice and the ways to overcome them.
You aren't proactive about filling schedules
A canceled appointment in a clinic should never be a lost appointment. If this is the case, you are likely throwing away valuable therapist's time and costing your clinic thousands of dollars every month. Instead, get proactive about filling schedules, leverage a wait list feature in your clinic, or using technology tools. This way, patients can get appointments faster, therapists won't get stuck twiddling their thumbs and your clinic won't lose out on money. Additionally, it's important that you regularly review your cancellation/no-show rate and evaluate whether or not your clinic staff is effectively selling patient care plans.
You don't allow patients to schedule physical therapy appointments outside of office hours
Imagine remembering you needed to book a doctor's appointment every time you drove home from work. Chances are this would be after 5 pm and the office would be closed. Now imagine your own patient's falling into that trap. As a practice owner, it's important to optimize and modernize the access points patients have with your clinic. When it comes to patients booking appointments, offering them the convenience of booking online or on their mobile devices 24/7 can go a long way. Appointment setting platforms, like BetterPT, can bring this option straight to the patient's fingertips and modernize your clinic's front desk. It also frees up the time of the front desk staff to focus on more strategic tasks.
You don't have a "mixed media" approach to physical therapy scheduling referrals
On average, a patient referral is worth $1000 for your clinic. Don't let that revenue get lost in the follow-up shuffle! It's important to remember that not all patients have the same communication preferences. Some don't regularly check their email while others are slaves to their inbox but will never answer an unknown phone number. Make sure that when following up with referrals to schedule appointments, you are including a combination of phone, text and email communications in the mix.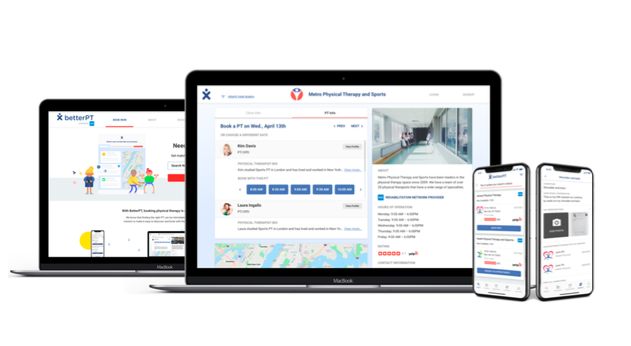 You aren't leveraging therapists to follow up on patients who have dropped out of treatment
Who would you rather have a follow-up call from? The therapist who treated you or the front desk staff? While the front desk is well equipped to have this conversation, you should leverage the individual who has built a relationship with the patient. A phone call from the therapist is often more impactful than one from an unknown front desk person.
Your physical therapy scheduling process takes too long
Are you offering your patients their preferred – and quickest – method of appointment scheduling? According to recent GetApp research, customers are more likely to hang up after being asked to wait when scheduling an appointment over the phone. In fact, in today's market, 70 percent of customers prefer to book appointments online. You can't blame them though when scheduling via a phone call takes (on average) over 8 minutes while online physical therapy scheduling takes less than 1 minute.
Take a look at your clinic and ask yourself – "Am I doing everything I can to make access to care/scheduling easier and more efficient for the patient and for my front desk staff?" Turn those bad scheduling habits around. Every little change adds up to enhance your practice and make you stand out from the rest!
BetterPT is helping to bring referrals and IPM (Inbound Patient Management) solutions to physical therapy practices while connecting patients with referral-free direct access physical therapy services. If you are interested in joining the BetterPT community, please email us at info@betterpt.com.
Clinicient INSIGHT is a unified electronic medical record (EMR), practice management and billing system intended for outpatient rehabilitation therapy facilities.