5 Dos and Don'ts of Online Scheduling
Written by Clinicient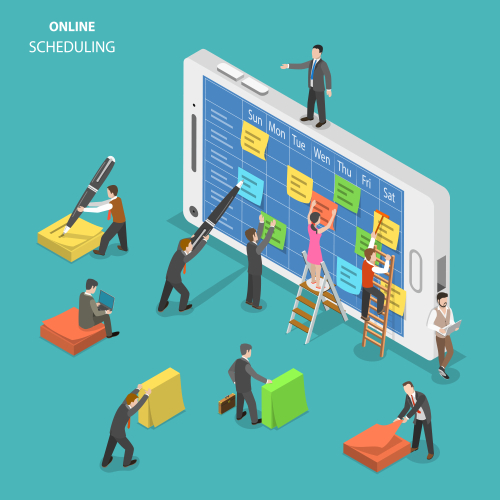 Given the growing consumerism trends happening across every industry, people are now accustomed to scheduling and booking nearly everything online - I mean when was the last time you booked a flight over the phone?
Unfortunately, the healthcare industry has been historically slow to adopt online doctor appointment scheduling - but there is good news. According to recent research, consumers want online medical scheduling options from their healthcare providers more than any other service. Even better, by the end of this year, 64 percent of patients will make a healthcare appointment online, generating $3.2 billion in value. Don't you want a piece of this pie?
So, where should you start? Don't miss these five dos and don'ts when it comes to online medical appointment scheduling in your practice.
DO put in the upfront work!
When talking about offering online physical therapy appointment scheduling at your practice, it's important to first make sure your EMR is set up correctly to handle the new workflow. While setting up an EMR isn't likely your definition of fun, putting in the work upfront to ensure your EMR is correctly configured will save your staff and patients many headaches and frustrations down the road and ensure your medical appointment scheduling software runs seamlessly. At Clinicient, we are proud to partner with companies like BetterPT. In order for our integrations to work well, you have to make sure you are using the EMR the way it was designed to be used.
Work with your EMR to make sure best practices are followed and that you are leveraging the system the way it is built to (no need to recreate the wheel here!). It's also important to leverage an EMR built for physical therapy like Clinicient so that your online medical scheduling platform can "speak the same language" as your EMR.
DON'T have unspoken rules across your practice that can inhibit online medical scheduling.
This ties into the "DO" above but make sure everyone follows the same workflow in your practice for making a physical therapy appointment online and there are no 'unspoken' rules to documentation, scheduling, billing or other processes. Also, make sure to document your clinic workflows so that there is a process in place for online medical scheduling when new hires come on board. If you don't have everyone on the same page across your clinic, you will likely never realize or see the benefits of new capabilities such as online physical therapy appointment scheduling in your practice.
DO ensure your whole team uses your EMR to help patients make medical appointments online
A business is only as good as its weakest link. Actively train everyone in your clinic to use your EMR so that it is your one single source of truth. This will make things much easier when you have online medical appointment 'requests' coming in from other sources beyond your front desk.
DON'T forget why people are using online appointment scheduling
It's for the convenience! Don't ask them 100 questions or require a lengthy form to be filled out prior to them making an appointment. Research shows that making an appointment over the phone takes an average of eight minute to 15 minutes while online medical appointments only take one minute - so give people this luxury!

DO advertise your online request appointment scheduling on your website
If your goal is to keep schedules full and free up your front desk staff for more critical activities, proudly displaying your online schedule via your website is a must. Having it in a prominent position on-site also easily addresses the common patient search of "online medical appointment scheduling near me" and can help ensure you show up in search results.
Online medical appointment scheduling is one of the easiest ways to improve patient satisfaction and boost your practice's bottom line. By making your online medical scheduling capability front and center on your website, your chances of patients (new and existing) making a physical therapy appointment online increases tenfold. Additionally, integrating with a medical appointment scheduling software like BetterPT can enhance the success of your online scheduling features. Discover more on the BetterPT website or mobile app about how our online medical scheduling platform helps both patients and practice owners.
Especially now with the advent of direct access to physical therapy, make sure it's easier than ever for patients to make a physical therapy appointment online. Without the need for a referral, patients can experience a seamless and easy booking process when you provide them with the right online scheduling tools.
Clinicient INSIGHT is a unified electronic medical record (EMR), practice management and billing system intended for outpatient rehabilitation therapy facilities.
Share this post: