5 Questions to Think About Before Returning to the Slopes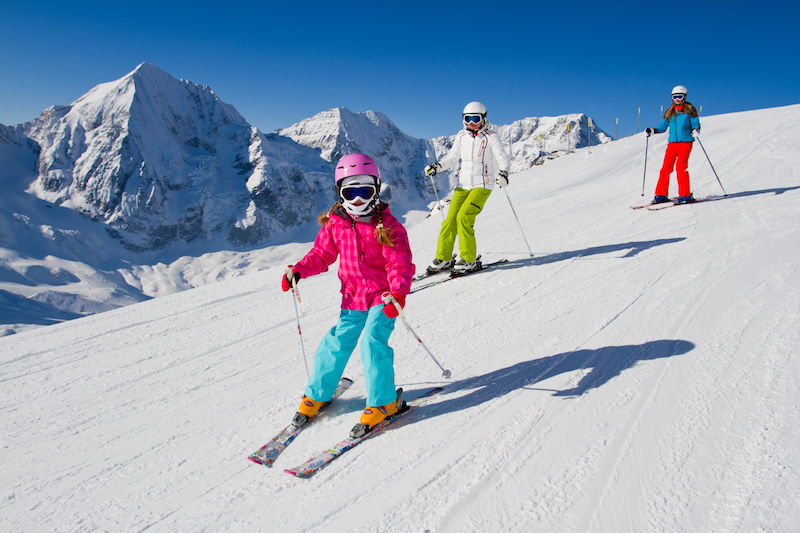 Ski season time is here and what does that mean? We are all excited about the weekends, a big trip, or an upcoming snowstorm to dust off our ski clothes and get back on the mountain. You may be a first-time skier (from 3 years old to 80 years old), a novice skier, a mom who is ready to go back out and ski after a few years hiatus, or an extremely experienced skier. No matter your age, experience level or talent – you can be at risk for an anterior cruciate ligament (ACL) injury while skiing. Another injury that you may experience? A TBI or other, less serious head injury.
Skiing is a great sport, however, there is always some risk involved. There are 2-3 injuries per 1000 skiers each day with 43% of all ski injuries involving the knee. Each year 17,500 skiers tear an ACL according to researchers at the University of Vermont School of Medicine. Skiing injuries of the knee can't always be prevented, but there are exercises that help make them less likely.
Two specialists provide their insight on skiing injuries, winter activity injury prevention, and overall safety.
Though every patient's experience is different, paying attention to some common aspect of winter activity safety helps.
Dr. Fealy at the Hospital for Special Surgery says that he sees a direct correlation with ski season and increased ACL injuries in his practice.
Marla Ranieri, Doctor of Physical Therapy at Drayer Physical Therapy has 5 questions for you to think about and tips to help avoid ACL injuries during this ski season.
Each of the below questions is important to consider. However, each person isn't able to answer them in the same way. Be mindful that your injuries – shoulder pain, back pain, neck pain, knee pain – aren't the same as everyone else's. Don't compare your recovery to that of everyone around you. Stay focused and stay mindful. Seek out physical therapy for winter sports injuries when necessary.
Important questions to think about before you hit the slopes:
1.     Is your body ready to ski? Since skiing is a seasonal, recreational sport, many people don't realize the rigorous physical demands that it places on their bodies. They also sometimes forget that they should be training in the offseason to ski. Just like any other sport, your body should have appropriate strength, flexibility, motor control, and endurance that should be maintained from season to season in order to fully prepare yourself for the slopes. Shoveling tips might not seem to be comparable to skiing tips, but they are. There are a lot of similarities between the two activities – and it's more than both simply being done outdoors as examples of winter activity.
2.     Has your body changed since the last time you skied? A lot can change in a year. Maybe there's been a growth spurt that for an adolescent, or a decrease in your workout schedule because of your busy lifestyle. Weight gain from maturity, weight loss from stress, or an injury that has altered your daily activities are possible. All of these changes affect the way you move and put you at risk for injury when heading back out onto the slopes.
3.     Do you have any current aches or pains in your body? If your busy lifestyle has caused you to ignore an injury, then you are putting yourself at risk for a more serious injury. The body is like a series of chains. Any ache or pain throughout that chain can have a direct effect on the rest of it.  When an area of your body hurts, it causes you to alter your movement patterns. This, in turn creates compensator patterns (causing muscles to work incorrectly) and puts you at a greater risk for injury.
These last two questions are meant to help you realize that you should be PREPARING your body to ski and should plan ahead accordingly.
4.     How are your core strength, hip strength, and balance? Many studies have been conducted showing a direct correlation between weakness in core strength, hip strength and balance and an increased risk for ACL injuries. A strong stable core controls the bodies center of mass allowing increased control of your knees and ankles during athletic movements. Strong hips (glut muscles) control the alignment of your legs and knees decreasing the ability of the knee to "cave in". When the knee caves into a valgus position it puts unnecessary load on the ACL increasing your risk of tear by 80%. Ability to balance on one leg is crucial for decreasing your risk of injury. If you do not have optimal balance strategies than one wrong movement while skiing can throw you off balance and increase your risk of ACL injuries.
5.     How well do you squat and is your form correct? You are basically performing a squat the entire time you are skiing. Because of this, it's important to understand how to squat and to make sure you are able to squat correctly. Quad dominance (which is a common mistake while squatting) is a known risk factor for ACL injuries, especially in female athletes. Therefore, practicing correct squatting mechanics before you ski is crucial to your knee health.
Physical Therapy for Winter Activity Injuries Gets You Back Onto the Slopes Faster
Physical therapy is the best place to start to gain advice on what to do in preparing your body for exercise and in treating injuries or alignments.
Winter sports – and in turn, cold weather injury exercises – are different from other yearly activities. The more you know about them, the better prepared you are to handle them. Sports aren't the only situations where people may find themselves in danger of an injury during cold weather, either. Family gatherings, travel, and even chores pose a risk, too.
Being aware of your surroundings is important throughout the year. It's especially important in the winter months. A skiing injury, slip and fall accident, or even persistent back pain aren't fun to deal with. Let a physical therapist help you heal properly.
Many physical therapists do preventative appointments. They take a look at your functional movement patterns and pick out areas of weakness and deficits. Once this is done, they offer exercises and advice about how to fix those areas. They also work on existing injuries to make sure that you are feeling well enough and prepared to go out on the slopes. They can help increase your core stability, hip strength, balance, and overall endurance. These professionals make it possible for you to participate in winter sports safely.
You no longer need a prescription to see a therapist and can start right away via direct access. The best way to find a quality therapist in your area and has availability is to search via the BetterPT clinic location tool or with the mobile app. These options also include the option for BetterTelehealth – virtual physical therapy appointments. Learn more about this option and the others available to you. Book your appointment today and learn ways to practice winter activity safely.
Be proactive, not reactive and avoid a ski injury this year!