BetterPT Expands Physical Therapy Software With PTPN Partnership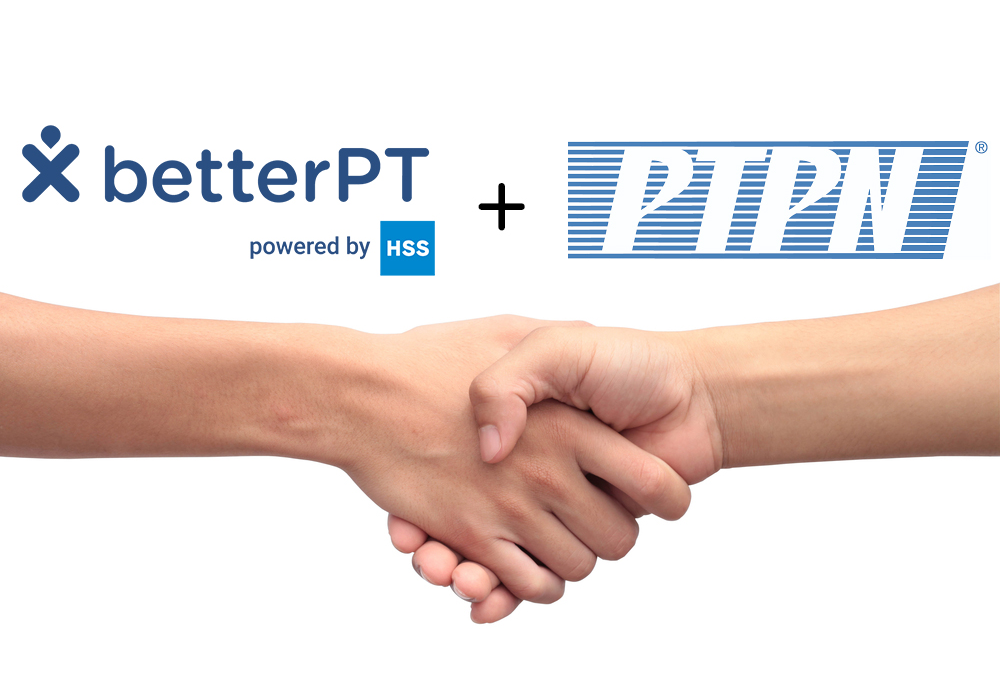 BetterPT's physical therapy software helps patients easily find treatment via a mobile and web platform. Now, one of the best PT software platforms just got even better thanks to a new partnership with PTPN.
We're always looking for opportunities to boost the value of our product, enhance patient satisfaction, and improve marketing strategies for physical therapy clinics. Through this new partnership, we've accomplished all of these goals.
What PPTN Means for Physical Therapy Marketing
PTPN is a major network of rehabilitation professionals and care providers. For patients, the network makes it easier to find affordable, nearby care.
For members, PTPN is also beneficial for caregivers by essentially providing effective marketing for physical therapy clinics. When patients can find a clinic through easy search tools, that clinic is more likely to thrive. Those benefits have increased (for patients and physical therapists) now that BetterPT is one of the "preferred vendors" of PTPN.
From a physical therapy marketing perspective, caregivers will attract more clients thanks to the convenient features our software offers. With some of the best PT software from BetterPT at their disposal, patients can easily find providers in their areas and schedule appointments online or via mobile devices.
Additionally, the BetterPT physical therapy software matches users with caregivers who match their insurance. Patients are simply more likely to choose clinics that are easy to find, have convenient appointments, and match their budget. When our software can be combined with marketing strategies for physical therapy clinics within the PPTN network, the advantages will be clear.
How Physical Therapy Clinics Benefit from the Best PT Software
Members who purchase from a PTPN preferred vendor are also eligible for special discounts. This is yet another way they benefit from using BetterPT now that this partnership has been established.
In fact, the BetterPT will also improve the overall operational efficiency of PTPN members. That's because our physical therapy software dashboard clearly lists essential information like patient DOB, insurance, prescriptions, and more. Clinics that use BetterPT enjoy improved staff performance, can schedule more patients in a day, and enhance patient satisfaction.
The PTPN network includes thousands of quality providers throughout the United States. Now, they can start using BetterPT to enhance their physical therapy marketing and reap the other advantages that only one of the best PT softwares can offer.
Our physical therapy software has expanded by tapping into a network that's been helping patients since 1985. When more clinics use BetterPT, patients have more options from which to choose when searching for care. With greater accessibility, patients have better odds of finding a nearby caregiver who offers the treatment they need at a cost they can afford. Meanwhile from the perspective of marketing for physical therapy clinics, these facilities can enjoy greater visibility at a reduced cost
We're thrilled to know this partnership between the BetterPT physical therapy software and PTPN will make it easier than ever for patients to find reliable physical therapy services. It will also make it easier for PTPN member clinics to enhance their physical therapy marketing strategies. Now that's what we call a win-win!
If you're interested in taking advantage of the opportunity to partner with us or learn more about what BetterPT can do for you, contact us today to be part of the BetterPT community!