Cycling to Get Healthy? Tips for Avoiding Neck and Knee Pain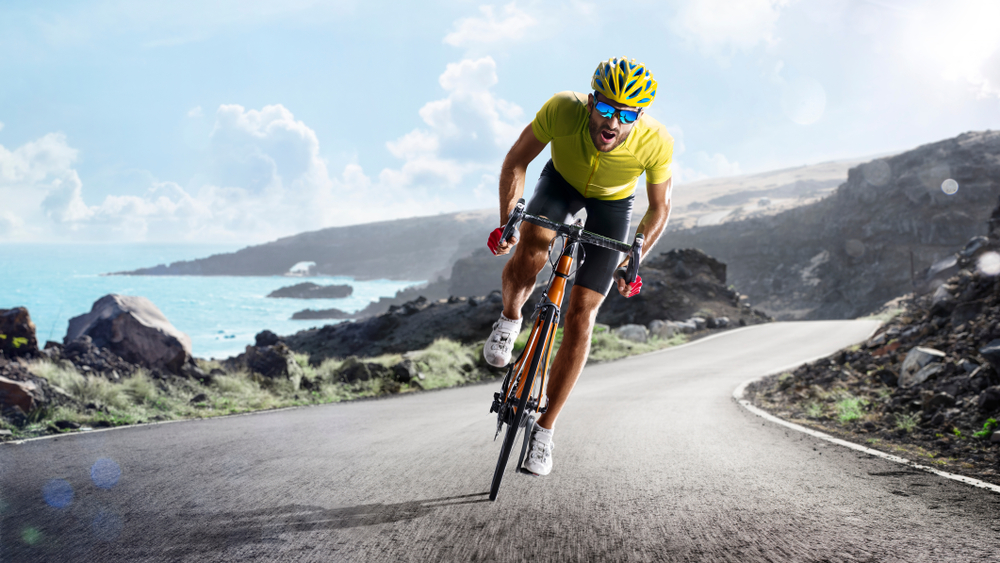 Biking is an excellent form of cardio exercise. Cycling for health is easy on the joints, but still gets your heart rate up. And if you've got bad knees or hips, it's the perfect kind of low-impact exercise to boost your health without aggravating or increasing your pain levels. 
Exercise may hurt at times if your body isn't used to the activity, but it shouldn't be painful while you're exercising.
But… injuries can happen. And you're more likely to experience an injury if your bike fit isn't quite right. If you're going to be cycling a lot, it's important that you choose the right bike. This is the same advice as runners selecting the correct shoes, swimmers wearing the right goggles, and athletes wearing the right protection.
How do you know your bike fit isn't right?
You experience cycling pain during and after exercise.

Your shoulders feel sore after biking.

You have numbness or weakness in your hands during or after a biking session.

Your breathing is labored after minimum cycling

You frequently experience injuries from cycling.
So, what's the fix to avoid cycling pain? Can it be prevented?
The answer is yes. 
You either need to fix your bike fit or your bike posture and technique. How do you do that? Let's take a closer look at these tips for cycling beginners!

Bike Fit For Beginners Avoiding Cycling Pain
First things first, do you have the proper frame size for your body size?
Most bike shops are experts and showing you the ropes on this. So unless you have a hand-me-down bike, you may already be covered in this area. But if you got a bike second-hand, the best and quickest way to check is to see if you have 1-2 inches between the bike frame and your groin when standing over the bike.
A proper bike fit means you can ride at ease for a long duration without experiencing neck pain from cycling or discomfort elsewhere. The pain may also present in the hands, feet, legs or lower back. Do not ignore it. 
Your seat should be positioned at a height that is comfortable. Ideally, you want your foot to be able to sit on the pedal of the bike at the lower position, without locking your knees. This position should also result in the absence of excessive bend in your knees.
This ensures you'll avoid anterior knee pain from cycling, as well as cycling knee pain in the front of your legs. That also means you should also be able to easily reach the handlebars. You shouldn't need to strain your shoulders or neck.
You should also make sure you foam roll before and after your bike rides. Foam rolling helps alleviate muscle tension that can cause stiffness, friction, and pain in your joints. 

3 Tips While Cycling for Health Purposes
There are further ways to reduce your risk of pain from cycling or injury.
1. If your hands get sore in the same position,

switch it up

!
Adjust so your upper body doesn't experience any discomfort and you avoid shoulder and neck pain while cycling. Small adjustments go a long way toward improving posture and whole body health. 
2. Relax your grip.
Are you wondering why your hands or wrists are getting sore? You may be gripping too hard. Relax your hold on the handlebars to avoid cycling pain in these joints. This applies to both outdoor cycling and indoor exercises. 
3. Avoid moving your hips from side-to-side.
Your hips and core should remain relatively stable and engaged throughout the biking movement. Don't allow your body to flail from side to side. Activate your core and stabilize it. When performing core exercises, this is essential. 
Prevent Cycling Pain and Injuries Before They Happen
If you're planning on cycling for health regularly, learn the ins and outs of a proper bike fit beforehand. Prevention is number 1 when it comes to any physical activity. After all, if you're cycling for health you want to be sure not to become worse off than when you started. 
Choosing to bike recreationally promotes the benefits of physical activity. Stationary bikes, trail bikes, and even everyday bicycles all have their merits, so picking the one you want to use is a matter of personal preference.
Exercise Efficiency Promotes Whole Body Health
There are exercises specifically recommended to pregnant women. There are exercises for people recovering from surgery. There are even some exercises that are better for those with physical limitations and those with cognitive deterioration than others. No matter what your choices are, exercise is a good thing. Physical therapy isn't only for those that are injured or recovering. In some cases, a physical therapy treatment plan is recommended for people that simply want to improve their health. Why? Physical therapy encourages exercise efficiency, which in turn requires you to learn about the activities you're doing.
Whether you're currently staying home more often or simply have more free time on your hands, consider cycling for exercise. It doesn't have to be the only form of activity you take part in, but this type of physical activity is very versatile. Indoors or out, during the week or near the holidays – riding a bicycle does a great deal of good for those that keep up with it.
And if you do experience an injury or discomfort, such as cycling neck pain or anterior knee pain from cycling, you should seek out a physical therapist that can reduce your discomfort and help prevent future injuries. Use the BetterPT clinic location tool website or download the mobile app to book a physical therapy appointment near you. Plus, direct access means you can make an appointment without needing a prescription from your physician. Telehealth services are also an option for those that don't want to leave their homes for care.
With the right help, you can get back on the saddle
without the fear of cycling pain
.
Dr. Marla Ranieri graduated from Stanford University with her bachelor's degree in Human Biology in 2005 and went on to receive her Doctorate in Physical Therapy from Columbia University College of Physicians and Surgeons in 2009. She has worked with all types of individuals, including professional athletes as part of the USA Gymnastics Medical Staff. Marla continues to treat patients with evidence-based medicine and the best quality of care.