Identifying Symptoms of Osteoporosis and Treating Them with Physical Therapy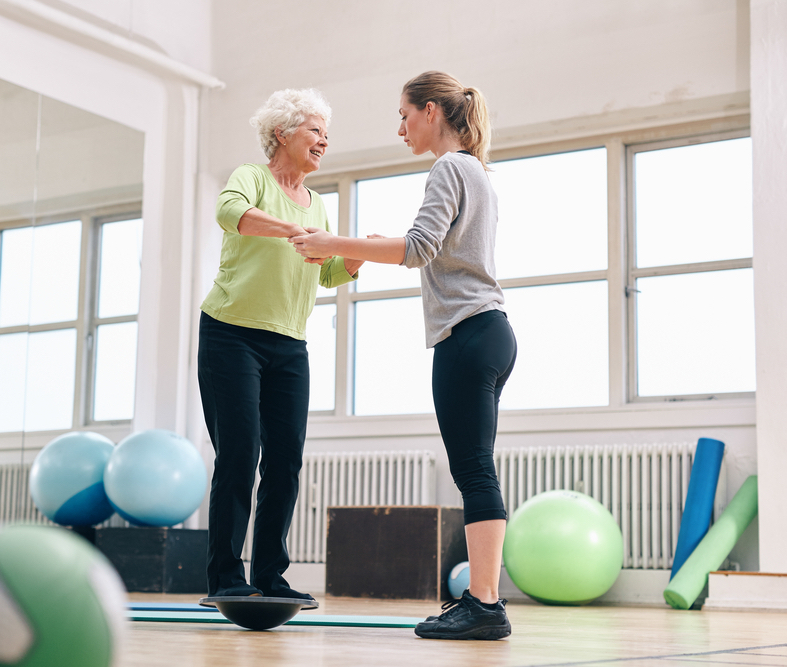 Osteoporosis is a condition involving a gradual weakening of your bones. As they become more fragile and lose density, bones also become more vulnerable to fractures or breaks. However, it's common for people to overlook early osteoporosis symptoms.
That's why you should learn about what causes osteoporosis and key warning signs ahead of time. Identifying the symptoms of osteoporosis can give you the opportunity to address them before they become problematic. Physical therapy for osteoporosis can be particularly effective at treating the condition. That said, you'll get better results if you start treatment before a minor issue becomes a more significant one.
What Causes Osteoporosis?
Certain factors may put you at a greater risk of developing osteoporosis than other people. If you're over 50 years of age, you should be vigilant about monitoring yourself for osteoporosis symptoms. Geriatric exercise is important, though. Don't forget this. It's also worth noting that women are significantly more likely to develop osteoporosis than men. Additionally, a family history of the condition is a key risk factor. This is similar to the way diabetes is commonly passed down between generations. 
However, anyone of any age or gender can technically develop osteoporosis. You shouldn't ignore early symptoms merely because major risk factors don't apply to you. Specifically, it's important to pay attention to the following signs and nip them in the bud with osteoporosis exercise treatments your physical therapist can provide.
Height Loss Can Be an Early Osteoporosis Symptom
Again, when you have osteoporosis, your bones lose density. They're more likely to break as a result. A common osteoporosis symptom is that people experience bone breaks in their spines. Patients may also experience height loss as a result. Schedule an appointment with your physician if you notice this occurring and investigate therapy or other options as cures for osteoporosis.

If You Experience Pain,  Consider Osteoporosis Exercise Treatments
Pain in the back, above the pelvis, and/or between the shoulder blades could be a sign of osteoporosis. Although many patients don't experience any noticeable discomfort until a bone breaks, there are cases in which patients develop this early warning sign. Rotator cuff pain isn't a common symptom of osteoporosis, but it may occur. 
Discussing your pain with a physical therapist can help. A specialist can recommend osteoporosis exercise treatments that can ease your discomfort. Though they may not eliminate symptoms entirely, therapy for osteoporosis can put you on the right track for living more comfortably with the condition. Physical therapy is all about pain management – not completely curing symptoms. The sooner you understand that, the better. 
Osteoporosis Causes Easy Breaks
The most obvious sign of osteoporosis is a bone break or fracture. Since this condition weakens your bones, you may experience a break or fracture during activities that normally wouldn't result in such an injury. Your doctor will likely check you for osteoporosis if this occurs.
How Physical Therapy for Osteoporosis Helps
A qualified physical therapist can design an exercise program to help you manage osteoporosis if you develop this condition. Though a program isn't necessarily a cure for osteoporosis, it should help maintain bone strength, or at least slow the progress of bone loss. Therapy can also help identify precisely what is causing your osteoporosis.
With physical therapy and osteoporosis knowledge, it will also help you protect yourself from future fractures and breaks. For instance, your physical therapist can teach you how to adjust your posture to minimize the vulnerability of bones in your spine. He/she may teach you exercises to increase your balance and therefore decrease your risk of falls. He/She can also explain the best way to arrange your home to limit other osteoporosis causes and symptoms. Improving balance, posture and mobility are the goals of this type of treatment. Learning the best ways to do so help to keep pain and symptoms much more manageable.
When you experience osteoporosis symptoms, you often need to make changes to the way you perform a number of physical tasks. Keeping yourself safe requires coordinating with a professional who can better explain those changes and recommend osteoporosis exercise treatments.
Finding a Physical Therapist for Pain Management of Conditions
Being ill isn't something people want to experience. Daily aches and pains like headaches, muscle aches, dizziness, lack of sleep and even weight gain or loss can't always be helped. But there are ways to combat the onset and progression of osteoporosis.
If you think you're at risk of developing osteoporosis, or if you have noticed any early symptoms, get in touch with a physical therapist to learn more about what causes osteoporosis and how to protect yourself for the future. Use the BetterPT clinic location tool website or download the BetterPT app to find a physical therapy clinic near you. Another benefit of using this method to choose your physical therapy professional is that traditional, in-person visits aren't the only ones available. The BetterTelehealth platform offers patients and therapists a chance to connect and work on pain management virtually. Though you won't be with your therapist in the room, you won't sacrifice the quality of care. Consider using this method for your physical therapy treatment. 
iWith therapy for osteoporosis, you can get on the right track to feeling better and preventing future injuries at the same time you manage current symptoms.