The Importance of Physical Therapy in the Nursing Home Setting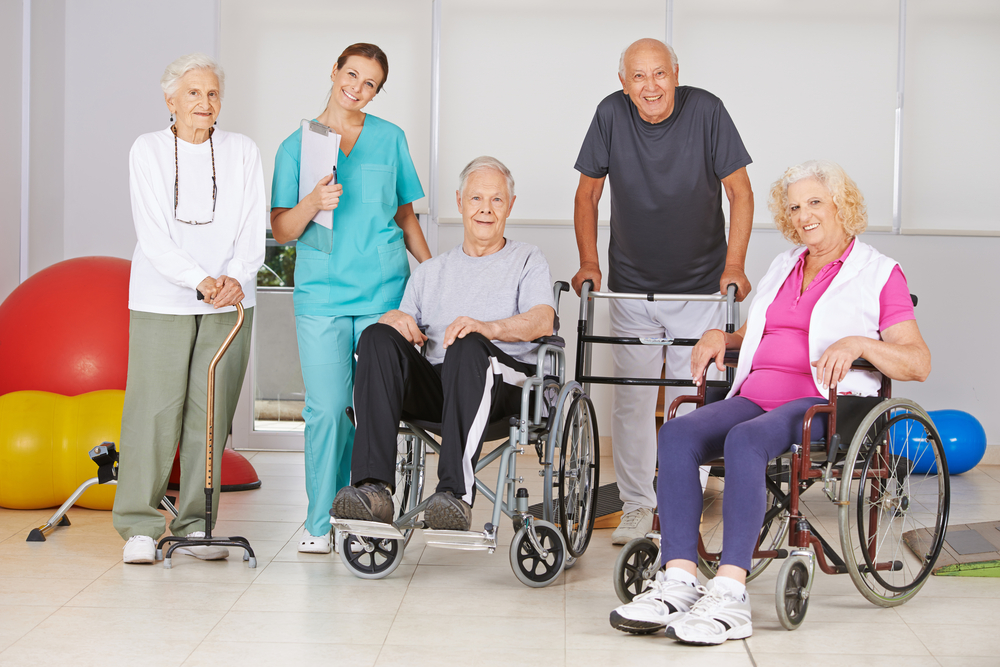 Staying active throughout life is the key to boosting and maintaining one's health. That said, as a person ages, their ability to exercise safely and effectively diminishes. That's why it's important to implement physical therapy in a nursing home setting. Considering this is National Home Health Care Month, there's no better time to explore these benefits. Pain management treatment options vary, which makes choosing the right ones very important. 
Keep the following points in mind. This helps you better understand the value of physical therapy exercise for the elderly in care homes especially during National Long Term Care Awareness Month.
How Physical Therapy Improves Long Term Care Rehabilitation in a Nursing Home
Elderly people in nursing homes often struggle with age-related physical limitations. This includes
Poor eyesight

Heart disease

Decreased balance

Loss of muscle strength
Decrease in memory
Increase of pain from conditions like arthritis, osteoporosis lost eyesight and lack of coordination
These can all contribute to a greater risk of falling. This is a major issue physical therapists help to address with exercise programs for nursing home residents. They often specialize in working with seniors to develop their balance. By doing this, injury likelihood decreases.
Of course, boosting an elderly person's safety isn't the only way physical therapy helps in a nursing home environment. Studies indicate that the importance of activities in long term care relates to both physical and mental well-being. Exercise has been shown to have a very positive impact on the mental health of older adults.
Physical therapists facilitate exercise for the elderly in care homes. They do so by carefully assessing the condition of each person they work with. Having direct access to physical therapy is important. The sooner care starts, the sooner health improves. From there, they develop appropriate programs for their condition and abilities. These nursing home exercise ideas are tailored to each individual to make sure the patient enjoys the best results.
Physical therapy in a nursing home setting also helps reduce discomfort caused by everything from arthritis to heart disease. This type of long term care rehabilitation allows elderly people to stay mobile and safe for a longer period of time. This keeps people independent, upbeat, and positive. It doesn't seem like a big deal, but for many, it is.
The importance of activities in long term care can't be overstated.
To appreciate how being active can help, consider these nursing home exercise ideas. Only a qualified physical therapist can determine which exercises are safe and necessary for each individual. These suggestions for exercise programs for nursing home residents may help you understand what physical therapy can offer.

Balance Exercises for the Elderly in Care Homes
Maintaining balance is important for seniors. Physical therapists help with simple exercises intended for long term care rehabilitation. A common one is standing on a surface and gradually reducing the support area. Seniors are also taught to carefully walk straight lines. They also learn to maintain balance while shifting their body weight. These simple nursing home exercise ideas can genuinely help them guard against potentially debilitating injuries. There are many pros and cons of home health care, but in order to ensure patient safety, consider as many of them as possible. 
Walking Exercise Ideas in a Nursing Home
Walking is a safe way to get exercise for people with limited mobility. That's why physical therapy in a nursing home often includes short bouts of walking. Punctuate this with strength and balance training. Walking in between other exercises helps boost aerobic health in seniors. For those with muscle and joint issues, techniques like cupping and the use of kinesiotape (PT tape) is useful. Each of these are simple treatments that provide many long term benefits when done properly. Cupping may be less ideal for the older population, but in situations where patients are in otherwise good health and desire to be (or remain active), it's helpful. 
The Importance of Stretching Activities in Long Term Care
Stretching helps to relieve muscle tension, which can alleviate discomfort. In long term care rehabilitation, this activity can also improve an elderly person's range of motion. This boosts their overall mobility. However, involving a licensed physical therapist to create exercise programs for nursing home residents ensure they don't put their muscles or joints under too much strain. Stretching is an underrated exercise. Many people don't realize that it's possible to complete stretches from a sitting position. Standing is recommended to involve the whole body, but even those with limitations and disabilities can stretch. 
Aging Adults Often Have Unique Health Concerns
Since balance is an issue for many elderly individuals, vestibular therapy is common. This is a type of treatment used for concussion recovery, core strength renewal, and balance improvement. This and other types of neurological physical therapy often do more for patients than initially thought. It's easy to track progress via these sessions. One thing to understand, though, is that it's possible that the first types of exercises won't work. That isn't to say that they don't help. In some cases, one course of action simply doesn't produce the desired results, leading to the need for new options.
These basic points should indicate the importance of physical therapy in the nursing home setting. Addressing the unique needs of seniors requires coordinating with experts who know how to identify the best exercise programs for nursing home residents. If you're unsure whether or not you or your loved one will benefit from this care, consider a telehealth visit with your PT professional. Virtual visits answer questions, give you access to care, and don't require that you leave your home. Physical therapy is also an alternative for pain medication, an especially enticing factor for the elderly. Those in nursing homes that are worried about home exercise shouldn't also have to worry about taking another type of pill.
To find a physical therapist that can assist with long term care rehabilitation, use the BetterPT clinic location tool or download the BetterPT app. It's clear that home exercise for the elderly in nursing is essential. By implementing these programs, nursing homes greatly boost the quality of life for their residents. Find a nursing home near you that offers the right types of physical therapy for your needs today!