What is Cupping Therapy and Can It Help You?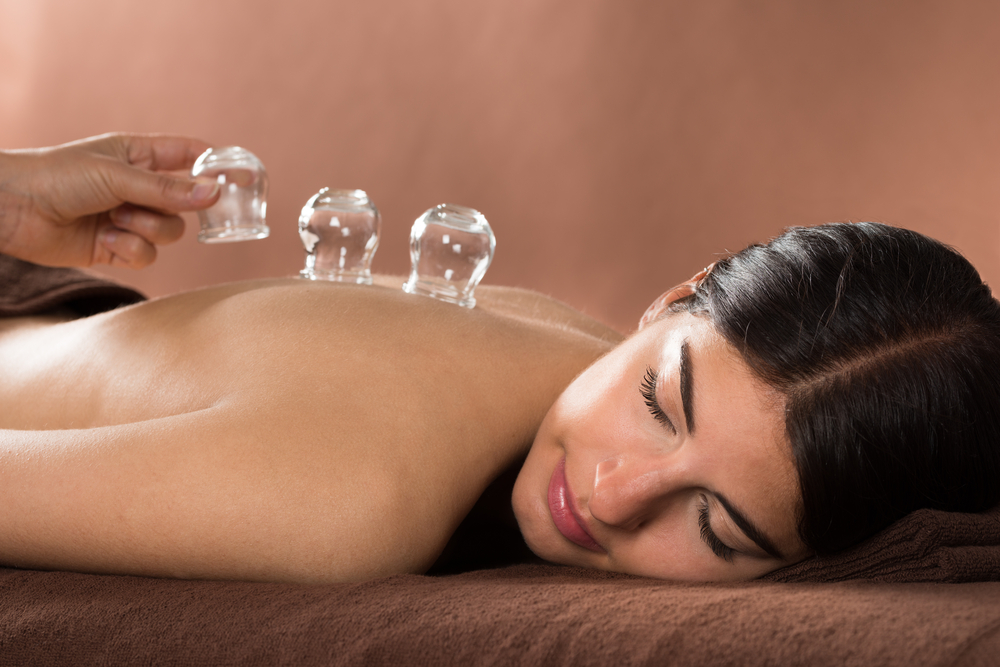 Cupping Therapy became more popular during the 2016 Olympics. This happened when the world watched Michael Phelps win multiple gold medals with large purple circles on his back and shoulders. However, Cupping Therapy has been around for centuries. The procedure actually dates back to 1,550 BC.
Cupping Therapy is an ancient form of alternative medicine that has roots starting in China.
The therapy consists of placing cups on the surface of your skin while using heat or a suction tool to remove the oxygen from under the cup. This creates a vacuum effect. It pulls your skin and fascia (layer of tissue just beneath the skin) away from the muscle. This increases blood flow and allows the "bad"/stagnant blood to move.
This draws blood to the affected area and is thought to do have many benefits. Some of them are listed below.
Reducing soreness
Increasing the healing of chronic, overworked muscles
Breaking up adhesions in the fascial layer
Allowing for better mobility throughout the treated area
The suction effect of Cupping Therapy dilates and ruptures capillaries just beneath the skin. This causes the dark-colored circular spots that last for a few days. It's bruising, but it's not bruising due to an injury, instead, they're the direct result of the therapy. This therapy is used in place of painkillers in order to reduce inflammation and discomfort in specific areas of the body.
What Does Cupping Therapy Treat?
Cupping Therapy has been used to treat many different ailments on all different types of people from professional athletes to the general population. Some of these ailments include: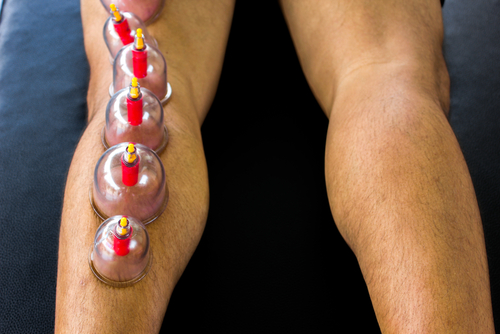 More research needs to be conducted on this topic. However, the research noted above does show beneficial effects. Many practitioners and patients reported clinical benefits with their patient results, too.
If you are dealing with any of the above ailments, cupping therapy may be a treatment to try as an adjunct therapy.
This type of therapy is used alone or with additional treatment options. Some of them include exercises like stretching or strength training. Others are a little more uncommon – but just as useful.
Foam rolling is a stretching home exercise that promotes flexibility. It also helps improve balance and decrease muscle soreness over time.
The use of kinesiotape provides targeted muscle support. This tape (also called PT tape) is one of the types of physical therapy used by athletes. Like cupping, it promotes blood flow to certain parts of the body.
Vestibular therapy options also help patients with recovery. Focused on balance, strength and function restoration, this therapy is completed over a long period of time.
Where to Find (and Receive) Physical Therapy Treatments
Cupping Therapy should be performed by a medical provider and be utilized as a part of your treatment plan.
This is not a cure by itself and works best in conjunction with physical therapy and exercise. It is an additional tool to help alleviate pain and increase mobility. These treatments are useful for many people, but not all methods of treatment work the same. Understanding your options as well as your needs is necessary. This allows you to pick the best types of treatment after weighing the pros and cons of physical therapy. Home health care is much different now than it was in the past. Taking advantage of all available options – whether you or a loved one are at home exercising or in a long term care facility or nursing home – is recommended. Don't sacrifice quality care just because you're in a place that isn't your home.
Be open to trying new types of physical therapy.
Even if you have no experience with one method, don't discount it. If it seems like it's working slowly or not working at all, find out what the issues are. Advances in the medical field happen all the time – and cupping is just one example. Telehealth is another. Through platforms like BetterTelehelath, patients and physical therapy professionals can connect when it is most convenient for them. This means more access to care and fewer hassles.
You can find a physical therapy clinic in your area and book a physical therapy appointment via the BetterPT app or BetterPT clinic location tool. Through direct access, you no longer need to obtain a prescription from your medical doctor to begin sessions. Therefore, you have access to physical therapy quicker and sooner. This means you can start improving your health today. Don't let those aches and pains continue to bother you, get BETTER soon!