Why Changing Your Posture is Your Best Posture
By: John Mackarey, PT, DPT & Greg Moy, PT, DPT, CSCSSPEAR Physical Therapy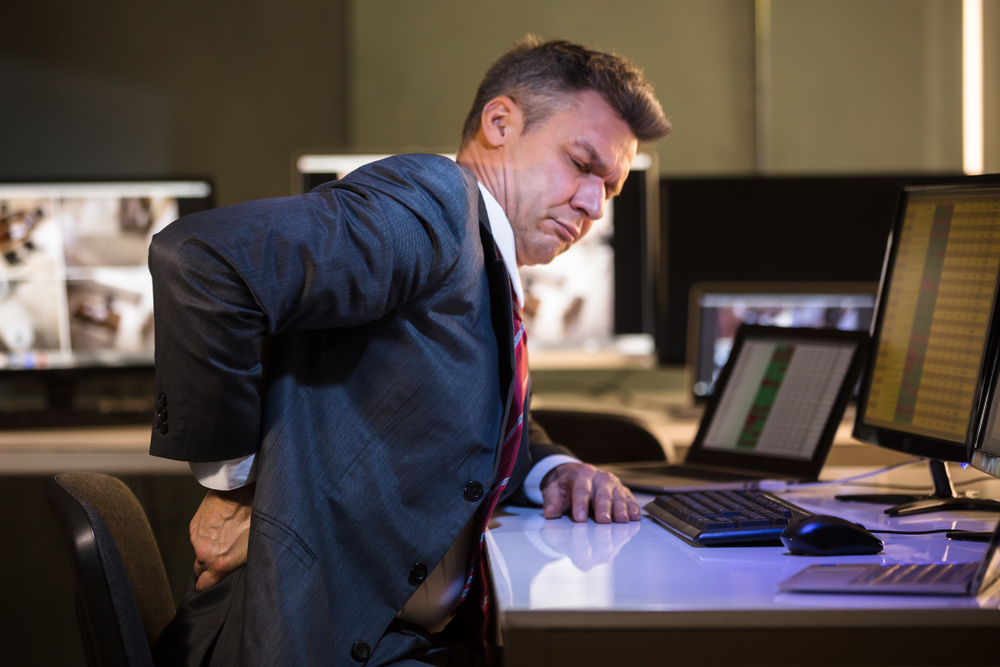 Most of us spend the bulk of our days sitting. We sit in a car or the subway on the way to work. we sit at work for at least 8 hours. Then, we sit at home on the couch as we decompress from the day. The world we live in causes us to engage in a more sedentary lifestyle but it may be more detrimental than you think.
Negative Effects of Poor Posture
Recent research has linked sitting for long periods of time with a number of health concerns. The effect of bad posture includes obesity and a cluster of conditions — increased blood pressure, high blood sugar, excess body fat around the waist and abnormal cholesterol levels that make up metabolic syndrome. Too much sitting overall and prolonged periods of sitting without having good posture also seem to increase the risk of death from cardiovascular disease and cancer.
So, how can we combat the negative effects of sitting all day and learn how to improve posture while sitting? Should you throw out your chair? Does it mean you spend lots of money and get a fancy chair? Should you purchase a standing desk? Well, it is not that simple to achieve great posture. There is no such thing as a perfect chair; your body should not be in one position for hours at a time. The problem is not the effect of bad posture or the position you are in; it is the inactivity. Standing desks have become popular, but standing is not necessarily better for you. Standing is still a static position.
Research has shown that chronic inactivity causes marked degeneration of virtually every measure of physical fitness. For example, this includes degeneration of reflexes, decreased muscle and tendon strength, and vulnerability to chronic pain.
Improving and Changing Your Posture
So, now what? Well, if you cannot sit or stand then what do you recommend? One way to combat the detrimental effects of sitting all day would be to incorporate "micro-breaking" through the day or as we say in the clinic: "your best posture is your next posture."
Microbreaking incorporates regular and small breaks set throughout the day to encourage dynamic posture. One way to incorporate micro-breaking throughout the day is to do good posture exercises. Or, get up and walk around the office or change from sitting to a standing desk every time you check an email or check your cell phone.
Here are some easy physical therapy based good posture exercises you can do throughout the day to incorporate a more dynamic posture at work. These exercises work on changing your posture. They involve the forward head and rounded shoulder that many of us are stuck in while working in front of a computer screen all day.
Cervical Retraction / Chin Tuck Physical Therapy Posture Exercise:
When we sit at the computer usually our necks are forward with our heads tilted up.  This exercise does the exact opposite to combat the effect of bad posture.
Scapular Retraction / Shoulder Blade Squeeze for Changing Your Posture:
This exercise is great for opening up the front of the chest and shoulders and activating some of the muscles in your back.
Thoracic Spine Extension/ The Lean Back Good Posture Exercise:
We spend all of our days in flexion (bent forward) so break up your day with some extension to get you out of back pain.
These are just a few exercises of many that work towards changing your posture and can help increase your postural stability and decrease general aches and pains. If you would like to learn more about how to improve posture while sitting with physical therapy posture exercises and have your posture evaluated you can find Spear Physical Therapy and hundreds of other quality physical therapy clinics on the BetterPT website and BetterPT mobile app. You can now see a physical therapist without a prescription from a doctor via direct access. Make sure your next great posture is your best posture and get BETTER!
John Mackarey is Clinical Director of, and Physical Therapist at, SPEAR's Long Island City – CityView clinic. John earned his Doctorate in Physical Therapy from Temple University and a Bachelor's degree in Health Sciences from Saint Joseph's University in Philadelphia, PA . It is his intent to formulate treatment plans using the most current physical therapy approaches, supported through research.
Greg Moy earned his Doctorate in Physical Therapy from New York Medical College after earning his Bachelor's degree in Molecular Toxicology from the University of California, Berkeley. He enjoys working with all types of people, especially those looking to make healthy life changes, and has worked with recreational, high school, collegiate, and professional athletes