Your Child Has Been Diagnosed With Scoliosis – What to Do Next
By Marissa Muccio owner of Scoliosis Specialty Center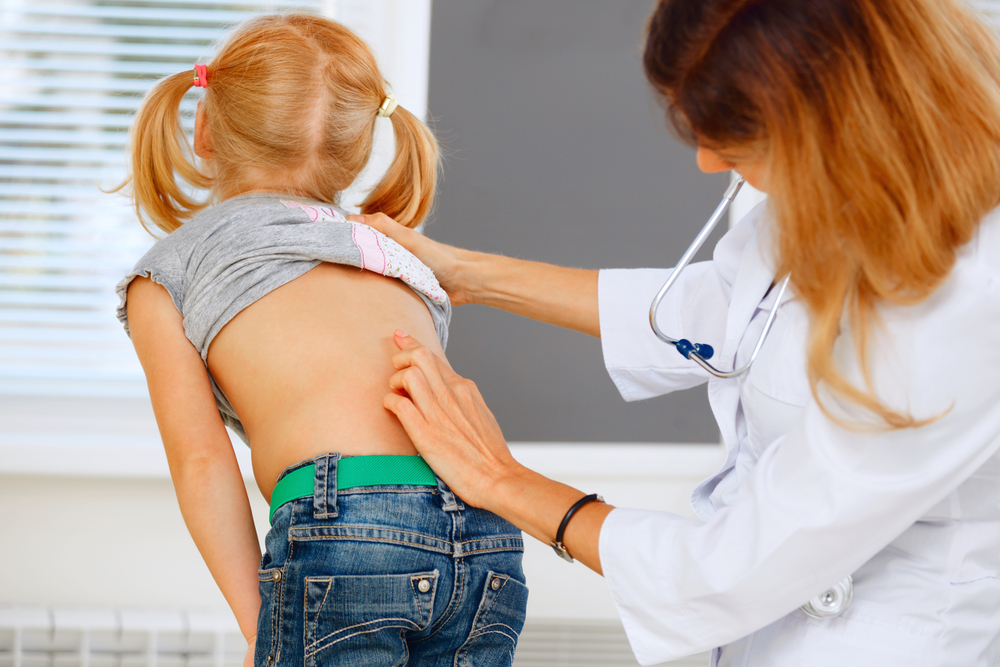 Every year you bring your child to the pediatrician for a check up. Most of the time the check ups are quick with results of "your child is growing happy and healthy!" However, you also may hear "Your child has scoliosis".
What is the Cause of Scoliosis in Children?
Scoliosis, you say? What's that? Scoliosis is an atypical curvature of the spine. Scoliosis is a condition, for reasons still not full known, that affects how the joints and bones of the spine grow. When your child bends down to touch their toes (known as the Adam's Forward Bend Test) your physician will look at his/her spine to see if each spinal segment is in alignment. If the spinal segments create a "C", an "S" or are rotated, this indicates your child has scoliosis. A scoliometer will be used to obtain a proper calculation of the curvature. This mal-alignment occurs when the spinal structures become wedge shaped, which changes the biomechanical position and movement. While your child is growing, the scoliosis curvature can continue to progress and worsen, which is why treatment for scoliosis in a child is necessary as soon as symptoms are spotted.
Treatment Options for Scoliosis in a Child
Many people may brush off the scoliosis curvature and recommend just "watching" the curve to make sure it doesn't progress. However, the symptoms of scoliosis in a child can have large indications and impact your child later in life causing imbalances throughout the kinetic chain of the body. Therefore, it is important to address the cause of any and all types of scoliosis in children before it gets worse and becomes the cause of injury/pain.

The Schroth Method: An Overview
If your child gets diagnosed with scoliosis you should dive further into the diagnosis and take preventative measures while also pursuing the best treatment for scoliosis in children. It is recommended to have an xray to measure the curvature and make sure the curve is not progressing from year to year. Some physicians may even recommend a scoliosis brace for your child if the curvature is > 20 degrees. You should also seek out pediatric scoliosis physical therapy services for your child whether it is prescribed or not from the MD. You can get direct access to physical therapy services without a prescription and can start receiving treatment to stop the progression of the curve. There is a specific type of physical therapy for scoliosis, directed solely at treating scoliosis curvatures, called the Schroth Method.
The Schroth Method is the leading certification for physical therapists in the US who provide scoliosis specific exercise. Schroth is a sensory motor training program in which a person's individual curves are evaluated via x-ray and clinical tests. His/her individual biomechanics due to the curves are also evaluated. The training program is then created and instructed as a treatment for scoliosis in children to address corrective movements in all 3-dimensions of his/her curve.
How It Helps
Schroth based specific scoliosis exercises for physical therapy are one of the 2 only research backed treatments for halting the progression of scoliosis in children during the growing years. The Schroth Method is not only a great treatment for scoliosis in children, but it also works well for the young adult and the elderly population to restore musculature and spinal symmetry and decrease pain. Some adults may experience pain and changes to their posture and alignment with aging. Often general PT, chiropractic, massage, yoga, etc fail to provide long term stability and outcomes.The Schroth Method is non surgical option that uses customized exercises to derotate, elongate and stabilize the spine in a 3-dimensional plane.
"AAOS, SRS, POSNA and AAP believe that recent high quality studies demonstrate that non-operative interventions such as bracing and scoliosis specific exercises can decrease the likelihood of curve progression to the point of requiring surgical treatment." …Scoliosis Research Society 1
Schroth therapy isn't just effective at addressing the symptoms of scoliosis in a child. It also aims at teaching you and your child to integrate personalized strategies into your lifestyle for long term spine health. For those who have had spinal fusion for larger curves, Schroth post-fusion training and scoliosis exercises in physical therapy can also provide the education and strategies for long term care of the remaining unfused segments and full spine strength to optimizing biomechanics.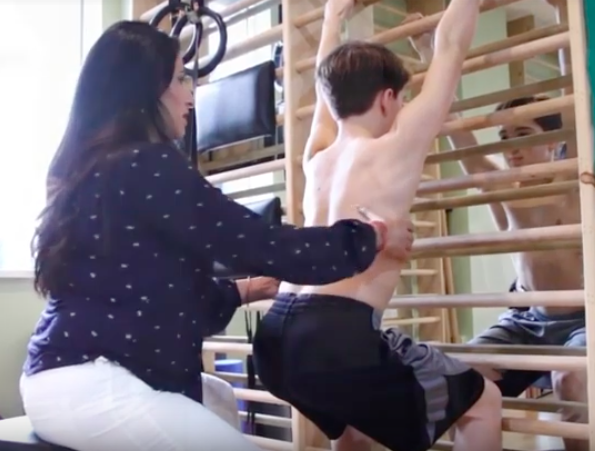 In addition, when you have scoliosis you do not have an accurate sense of position in space or proprioception of true gravitational center. This is the brain's response to the changes in the structures. Schroth provides not only the strengthening of spinal musculature, but the re-training of posture and alignment utilizing breathing techniques, education, and exercise.
Now is the Time to Look Into Physical Therapy for Scoliosis Near You
June is National Scoliosis Awareness Month! Therefore, if you or your child has been previously diagnosed with scoliosis or newly diagnosed with scoliosis this is the month to take action!
When seeking education, skilled treatment and life-long strategies to care for your curves, look for Schroth based scoliosis specific exercise certified physical therapists. It's now easier than ever to search "physical therapy for scoliosis near me" and get quality results. You can find and book an appointment with Scoliosis Specialty Center and other specialized clinics in your area through the BetterPT website and BetterPT mobile app. We make it easy for you to access the care you need!
Marissa Muccio graduated Kean University and University of Medicine and Dentistry of New Jersey with a Bachelor's in Physical Therapy. Her professional passion has always been providing the highest quality service to pediatric patients, their families, and the community.
Share this post: